Displaying items by tag: classroom
The Pets in the Classroom grant program is able to provide 60 teachers with funding to purchase classroom pets thanks to money raised during America's Family Pet Expo.
The Pet Care Trust is pleased to announce that 60 teachers will be receiving Pets in the Classroom Grants thanks to a donation through the World Pet Association (WPA), Hikari Sales USA, and other pet-related businesses. Nearly $6,200 was raised for the Pets in the Classroom grant program at the WPA's April 22-24, 2016 America's Family Pet Expo in Orange County, California. The money raised will fund 60 teacher grants, allowing 2,500 students to experience the benefits of interacting with pets in the school setting.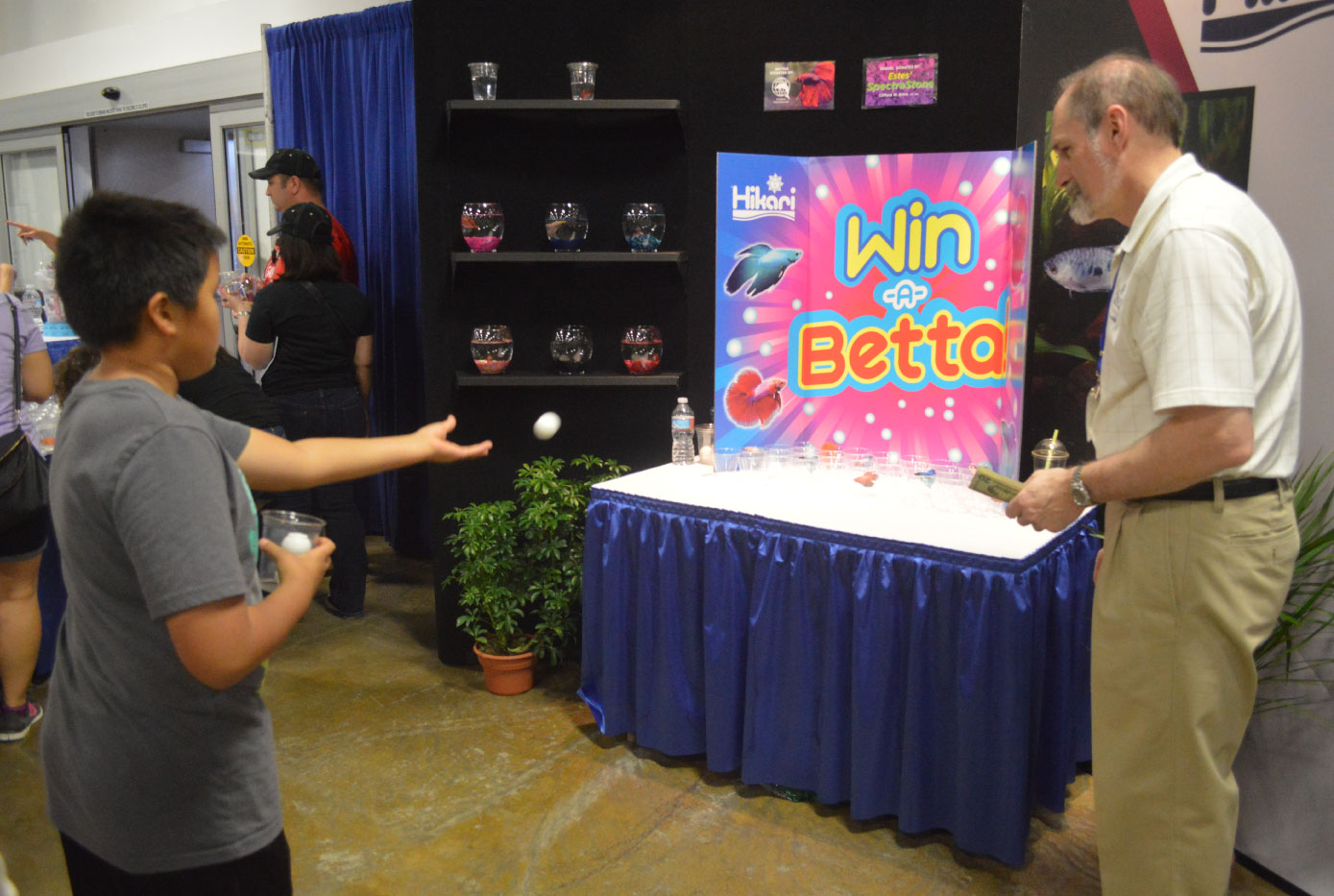 The Expo, which is known for its notable history of placing animals in forever homes and educating people on responsible pet care, featured a Betta Fish Toss booth in which attendees had the opportunity to win a betta fish by throwing a ping pong ball into cups of water. Aquatic Companies Dolphin, Estes, and Hikari Sales USA, Inc. all donated products for the Betta Toss while Hikari Sales USA President and Pet Care Trust Board member Chris Clevers also spent the weekend helping at the booth.
"The Pet Care Trust sincerely appreciates the tremendous support that the World Pet Association and Chris Clevers have provided to the Pets in the Classroom program," said Steven T. King, Executive Director for the Pet Care Trust. "Thanks to their efforts and the donations made by Dolphin, Estes, and Hikari USA Sales, Inc., thousands of kids will be able to experience the joys of a classroom pet as a result. The support of those in the pet industry have been instrumental in the continued growth of this wonderful program."
Clevers has been instrumental in raising funds for the grant program at the annual Expo since 2011. His dedication to the program is evident in his and his wife's donation of time and products to fundraising efforts, and in his involvement in the Pet Care Trust board. Clevers commented:
"We feel this program is extremely important to teachers and their students as it allows children to interact with animals and reconnect with nature while providing firsthand experience developing responsibility and compassion as well as helping the teachers with daily lesson plans designed around the animals. No program in the pet industry does more to foster pet parents of the future than Pets in the Classroom. We're pleased we could support such a worthwhile and important program. We only wish more companies in our industry would join us."
The Pets in the Classroom program was established by the Pet Care Trust to assist teachers in obtaining or maintaining classroom pets. The Pets in the Classroom program benefits students by teaching them responsible, long-term pet care at an early age and providing the psychological and developmental benefits associated with the human-animal bond. Studies have shown that caring for pets has a positive effect on children, improving school attendance and teaching children responsibility, as well as encouraging nurturing and building self-esteem.
For more information on the World Pet Association and its events, visit www.WorldPetAssociation.org, or for more information on the Pet Care Trust and its Pets in the Classroom grant program, visit www.petsintheclassroom.org.
.
Calling all creative kids! Bob Vetere, APPA President & CEO, is excited to announce that the association's non-profit campaign, Pets Add Life (PAL), is kicking off the 8th Annual Pets Add Life Children's Poetry Contest beginning September 1, 2015 through January 31, 2016. Students in 3rd-8th grade are encouraged to write original poems about the joys of owning pets of all types for a chance at top prizes for both themselves and their classroom.
Participants can submit poems via PAL's Facebook page at facebook.com/petsaddlife, online at www.PetsAddLife.org or mail final poems and submission forms to:
Pets Add Life
50 Washington St. Suite 100
Reno, NV 89503
The deadline for submissions is January 31, 2016 at 5 p.m. EST.
Additionally, teachers within these grade levels are welcome to incorporate this national contest into their lesson plans and submit poems in one entry on behalf of their classroom.
One student from each grade nationwide (6 total) will win a $250 gift certificate for pet products, and a potential "by-line" in a nationally circulated publication or online outlet. Additionally, the six winning students' classrooms will each win a $1,000 grant to spend on pet-related education or to support a classroom pet.
To learn more about the Pets Add Life Children's Poetry Contest, read previous winning poems, upload submissions, or download submission forms, please visit http://petsaddlife.org/childrens-poetry-contest or contact Ashlee Verba at 775.322.4022 or This email address is being protected from spambots. You need JavaScript enabled to view it..
-###-
The American Pet Products Association (APPA) is the leading not-for-profit trade association serving the interests of the pet products industry since 1958. APPA membership includes more than 1,000 pet product manufacturers, their representatives, importers and livestock suppliers representing both large corporations and growing business enterprises. APPA's mission is to promote, develop and advance pet ownership and the pet product industry and to provide the services necessary to help its members prosper. Visit www.americanpetproducts.org for more information.