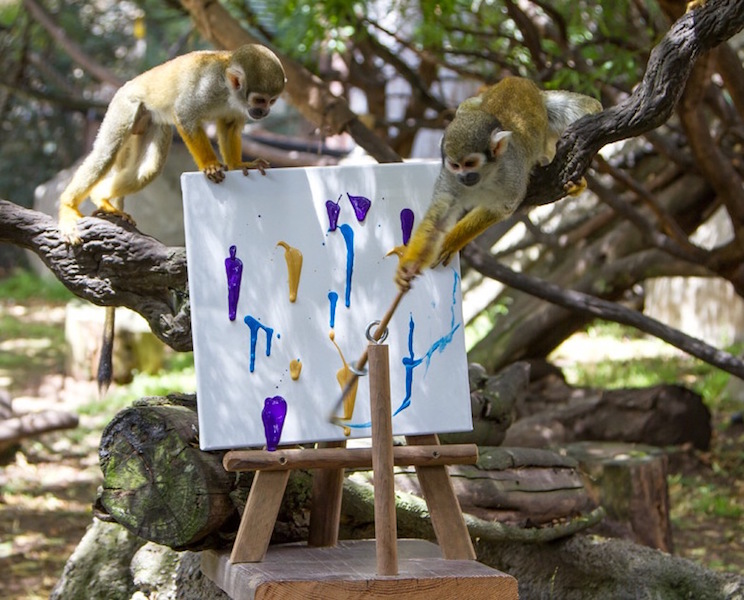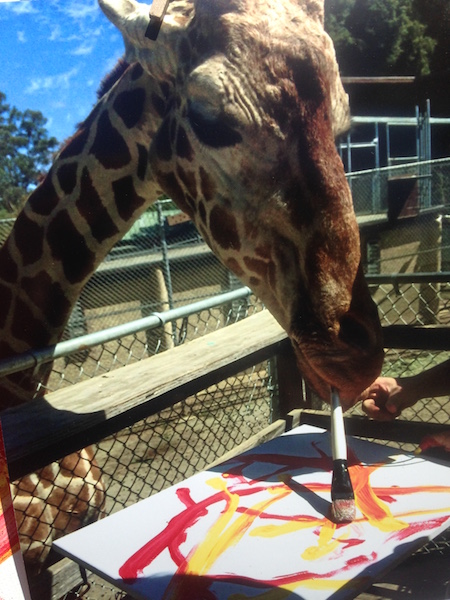 "Meet the Animal Artist" Experience Added to Oakland Zoo's Animals Saving Animals Annual Art Auction
Video Download for Media: https://www.dropbox.com/s/z95s1cgbcfrvanq/ArtExperience.mov?dl=0https://www.dropbox.com/s/z95s1cgbcfrvanq/ArtExperience.mov?dl=0
Oakland, Calif. -- September 15, 2016 -- Oakland Zoo has added a new twist to the third year of their annual "Animals Saving Animals Art Show" to raise money for animal conservation. Bidding winners get to come to the Zoo to be part of the painting experience with the animal artist.
Zoos across the country now sell animal paintings as a way to fundraise, but Oakland Zoo wanted to enhance the concept by personalizing the experience. "We saw that people bought these artworks to connect with the animals, so we decided to offer an experience where people could meet an animal artist up-close and behind-the-scenes, for the 'creative' painting process.' It's an amazing way to connect with animals at the Zoo, support animal conservation in the wild – and, of course, acquire unique artwork," said Erin Harrison, Sr. Manager of Marketing & PR at Oakland Zoo.
Artwork created by zoo animals is up for auction on eBay now through Thursday, September 22 at 11am. Artists featured in the Animal Art Show Experience include an elephant, lemur, goat, sun bear, giraffe, parrot, and green monkey. For a complete list of artist names, biographies and bidding link, and additional information on Oakland Zoo's Animal Art Show Experience, go to: http://www.oaklandzoo.org/Animal_Art_Show_2016.php
"The Animal Art Show Experience is a triple win; it provides fun enrichment activity for our animals, helps support the conservation of wildlife, and draws public attention to the various conservation challenges that animals face," said Amy Gotliffe, Conservation Director at Oakland Zoo. "The Animal Art Show is also a perfect example of how the entire Oakland Zoo staff embraces our conservation efforts, from our Marketing Department to our Animal Care team. We hope the lucky winners of this unique art know that they took action for wildlife every time they look at it."
None of the animals are forced or coerced into participating in the Art Show. The painting sessions are conducted with zookeepers, using only positive-reinforcement methods to encourage voluntary participation. The paint used is non-toxic and water based. All funds raised from the auction will benefit Oakland Zoo's conservation partners, who are working in the field to save wild animals.
ABOUT OAKLAND ZOO:
The Bay Area's award-winning Oakland Zoo is home to more than 660 native and exotic animals. The Zoo offers many educational programs and kid's activities perfect for science field trips, family day trips and exciting birthday parties. Oakland Zoo is dedicated to the humane treatment of animals and wildlife conservation onsite and worldwide; with 25¢ from each ticket donated to support conservation partners and programs around the world. The California Trail, a transformational project that more than doubles our size, opens in 2018,
and will further our commitment to animal care, education, and conservation with a focus on this state's remarkable native wildlife. Nestled in the Oakland Hills, in 500-acre Knowland Park, the Zoo is located at 9777 Golf Links Road, off Highway 580. The East Bay Zoological Society (Oakland Zoo) is a nonprofit 501(c)3 organization supported in part by members, contributions, the City of Oakland and the East Bay Regional Parks. For more information, go to: www.oaklandzoo.org
###