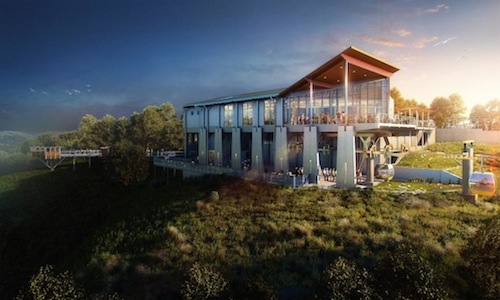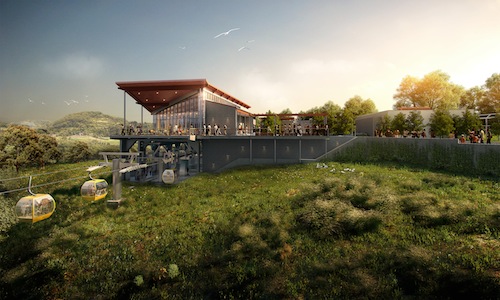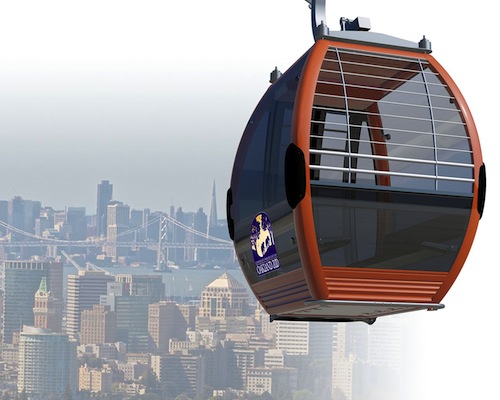 Oakland, CA…May 24, 2016 – Construction of the Oakland Zoo's new California Trail expansion, including a new state-of-the-art visitor center, is in full swing thanks to a generous $3 million grant from Kaiser Permanente's fund at the East Bay Community Foundation.
Slated to open in Spring 2017, the Kaiser Permanente Visitor Center at Oakland Zoo's California Trail serves as the entry point to the developing 56-acre expansion; with Zoo guests arriving via Northern California's first urban gondola offering awe-inspiring views of the entire SF Bay Area. The 15,500 square foot building will also feature viewing decks from 625 feet above sea level and the upper level will house an expansive, family-friendly restaurant.
"The California Trail at Oakland Zoo will be the first-ever of its kind, giving almost a million visitors each year the opportunity to connect with and learn about many California native species, like the Grizzly bear, that vanished from our lands so long ago," said Dr. Joel Parrott, President & CEO of Oakland Zoo, "We are so pleased to have Kaiser Permanente's name added to this monumental structure which will serve as the first experience for guests exploring the many attractions of the California Trail."
In addition to securing naming rights to the Kaiser Permanente Visitors Center, the organization's investment will support two prominent educational programs for youth at the Zoo, the Teen Wild Guide program and Field Biology workshops. Both programs offer Bay Area tweens and teens long-term, hands-on learning and research opportunities focused on conservation and wildlife both at the Zoo and beyond.
"Kaiser Permanente is committed to improving the health of the communities we serve," explained Vice President of External and Community Relations Yvette Radford. "We're excited to help support the Oakland Zoo's California Trail because it encourages people of all ages to enjoy outdoor physical activity and appreciate the beauty and environmental diversity of our incredible state."
As construction continues on the Kaiser Permanente Visitor Center and all of the exhibits and attractions within the California Trail, several naming opportunities remain for the many new habitats, viewing stations, pavilion, classroom and the only one of its kind in Northern California – urban gondola. The first animal residents are anticipated in the fall of this year with the addition of twenty American Bison from the Blackfeet Nation tribe in Montana. Other animals will be added to the Zoo family from both rescue situations and other Zoos in need of relocating animals. The California Trail is slated to open to the public in 2018.
**Click here for large versions of above images**
###
ABOUT CALIFORNIA TRAIL AT OAKLAND ZOO:
California Trail brings to life the rich natural history of California in a whole new way. Designed to be more like a wild animal park, California Trail will feature the state's historic and iconic animal species in large exhibits, including grey wolves, grizzly bears, jaguars, mountain lions, bald eagles, California condors, black bears, and American bison. Through the California Trail experience, Oakland Zoo presents a dynamic and inspiring story about finding balance in how we steward our state's natural legacy. Interactive features along the Trail will help to complete the animals' stories with a vision for their healthy future in the wild and opportunities for you to help them thrive. For more information, go to: www.californiatrail.org
ABOUT OAKLAND ZOO:
The Bay Area's award-winning Oakland Zoo is home to more than 660 native and exotic animals. The Zoo offers many educational programs and kid's activities perfect for science field trips, family day trips and exciting birthday parties. Oakland Zoo is dedicated to the humane treatment of animals and wildlife conservation onsite and worldwide; with 25¢ from each ticket donated to support conservation partners and programs around the world. The California Trail, a transformational project that more than doubles our size, opens in 2018, and will further our commitment to animal care, education, and conservation with a focus on this state's remarkable native wildlife. Nestled in the Oakland Hills, in 500-acre Knowland Park, the Zoo is located at 9777 Golf Links Road, off Highway 580. The East Bay Zoological Society (Oakland Zoo) is a nonprofit 501(c)3 organization supported in part by members, contributions, the City of Oakland and the East Bay Regional Parks. For more information, go to: www.oaklandzoo.org