Oakland, CA – Oakland Zoo's zookeepers collaborate with Buffalo Zoo, Queens Zoo, and Omaha Zoo on a highly-detailed fertility plan to produce, ship, and release tadpoles into El Convento Natural Reserve, operated by Para la Naturaleza, located in the southern portion of Puerto Rico.
The specific breeding plan for the Puerto Rican crested toads is taking place within an eight-week window, which involves selecting prime breeding toads, creating specific temperature controlled environments, selecting eggs for fertilization, utilization of a rain chamber, antifungal treatments, and hormone injections. Since tadpoles morph into frogs about two weeks after hatching, the precise time of everything must be perfectly synchronized at all four zoos. Delicate fertility procedures were conducted by zookeepers and required careful coordinating and timing with specified dates. "We are so honored to be a part of this program," stated Margaret Rousser, Zoological Manager at Oakland Zoo. "Being able to contribute to the conservation of a species is what zoos are all about." If all goes as calculated, the four zoos will have had tadpoles hatch on the same day, timing a flight to Puerto Rico on week ten of the fertility calendar. The precious cargo will be packed up and shipped to arrive in Puerto Rico on October 22, 2015. On the same date of delivery, thousands of tadpoles will be released into their new habitat by partners in Puerto Rico.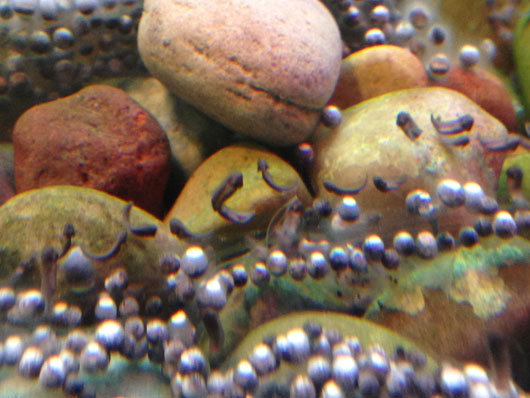 The Puerto Rican crested toads were the first animals to be housed in Oakland Zoo's Biodiversity Center, which opened in August of 2013. For the past two years, Oakland Zoo has been in close communication with the Association of Zoos and Aquariums' Species Survival Plan, waiting for word that Oakland Zoo toads are recommended to breed. "We are delighted that the staff at Oakland Zoo has been able to successfully reproduce this critically endangered species," said Diane Barber, Puerto Rican Crested Toad Species Survival Plan Coordinator. "Their efforts are directly contributing to the establishment of a new population of crested toads that will ensure their survival and eventual recovery in the wild." The toads and tadpoles are housed in a quarantined lab at Oakland Zoo, being carefully monitored by zookeepers named on a special permit.
These toads are critically endangered in their homeland of Puerto Rico. According to the AZA, in the 1980's, Puerto Rican Created toads (only native toad in Puerto Rico) were thought to be extinct. At this time, AZA collected and mobilized a group of toads, bringing them into captivity for breeding. The toad extinction in the 1920's is believed to be caused by the introduction of the cane toad, which was introduced in the country to eradicate mites, which were ruining the sugar cane crop. This farming solution caused a domino effect; the new frogs soon out competed the native frogs for food, causing Puerto Rican Crested toads to be in dire straits. However, thanks to AZA breeding programs at zoos across the United States, more than 350,000 tadpoles have been released into their native Puerto Rican forests.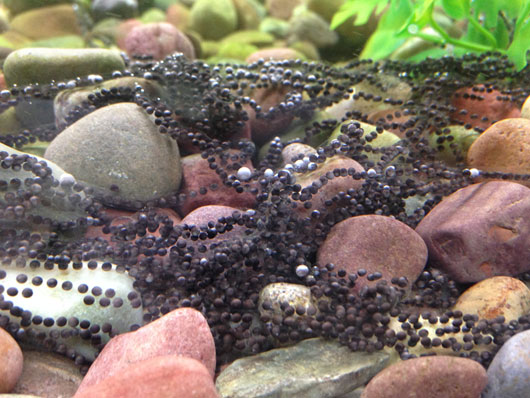 ABOUT OAKLAND ZOO'S BIODIVERSITY CENTER:
Oakland Zoo's Biodiversity Center opened in August of 2013. The Biodiversity Center is an important contribution to the global efforts to preserve our planet's rich and diverse wildlife through conservation, research, education, and public participation. The Biodiversity Center directly supports critically endangered species both through captive breeding and by head starting. Animals bred in the Center will be introduced to wild habitats. Juveniles vulnerable in the wild are brought to the Center's labs during their developmental period and returned to the wild once they are past their most vulnerable period. The Center's research labs house and display current and ongoing research activities and programs focused on the study, management, protection, and restoration of threatened and endangered species, such as the Puerto Rican crested toad and Sierra Nevada mountain yellow-legged frog.
ABOUT OAKLAND ZOO:
The Bay Area's award-winning Oakland Zoo is home to more than 660 native and exotic animals. The Zoo offers many educational programs and kid's activities perfect for science field trips, family day trips and exciting birthday parties. Oakland Zoo is dedicated to wildlife conservation onsite and worldwide. Nestled in the Oakland Hills, in 500-acre Knowland Park, the Zoo is located at 9777 Golf Links Road, off Highway 580. The East Bay Zoological Society (Oakland Zoo) is a nonprofit 501(c)3 organization supported in part by members, contributions, the City of Oakland and the East Bay Regional Parks.
###