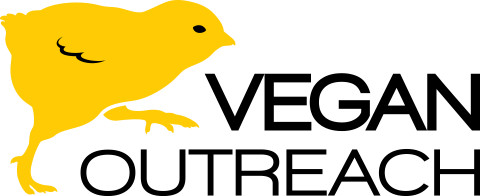 Biggest Event in Adopt a College History!
By Emmanuel Marquez, VO Mexico Outreach Coordinator
On May 8, we had an amazing day at the Universidad Autónoma de Nuevo León. VO Mexico Campaigns and Spanish Media Coordinator Katia Rodriguez and I had the support of 10 super committed volunteers, and together we set a new all-time record for the most booklets handed out at one event!
Above (from left) are Emmanuel Marquez, Angelica Burciaga, Katia Rodriguez, Luis Zepeda, Constanza Zuniga, and Israel Hurtado at UANL. Along with Yuliana Lozano, Sheccid Torres, Melissa Romero, Julio Silva, Angel Ramirez, and Carlos Contreras, they handed out 22,805 booklets in a single day!
Israel [above, right] was one of the first success stories we had in Mexico after Vegan Outreach started working there full-time. Thanks to the booklet he received from Katia more than two years ago at this same school, he decided to stop eating meat and helped us leaflet that day, handing out more than 1,000 booklets. Today he handed out 3,000 leaflets and is almost vegan.
Throughout the day we had very positive interactions—from people thanking us for the work we're doing, to vegans and vegetarians asking to get involved with VO. I met Giselle (below, center), who told me she recently started giving up meat and plans to go fully vegan. I gave her a guide and info about other resources VO has for people in her situation, like the Vegan Mentor Program. She was very thankful and happy to receive support in her transition.
Eduardo (above, left) and I had a brief talk about the abuse animals go through in farms, and he decided to reduce his meat intake. Jose (above, right), a high school student who was on campus to register, read a leaflet and wants to go vegan. He also told us he wants to learn recipes so he can share food with the people around him, to inspire them as well and save more animals.
I'm extremely thankful for all of VO's donors and supporters—this outreach was possible thanks to you. We all accomplished this together!
Donate Today to Double Your Impact for Animals!
Every dollar you donate to Vegan Outreach means more work we can do to inform and inspire people to go vegan.
Your donation today to our Team Vegan drive will be matched dollar-for-dollar by other donors!
Give today to create more vegans tomorrow and move us closer to a vegan world!
Thank you!
Fruit-Sweetened Granola
Wake your kiddos up with a bowl of Wendy Gabbe Day's Fruit-Sweetened Granola!
Irresistible Lasagna
Craving Italian food? You've come to the right place! VO Outreach Coordinator Alexis Clark shares this veganized version of her grandmother's lasagna recipe.
Recent Feedback
Huge day at the University of the Sunshine Coast with volunteers Brooke Chandler and Vickie Breckenridge. We smashed the Sippy Downs campus record and had countless conversations. There were lots of vegos and vegans, and many more interested in taking steps towards veganism.
—Sam Tucker, VO Australia and New Zealand Outreach Coordinator, 5/3/17
---
I hopped on over to the University of Northern Colorado for a few hours and was well received! For anyone familiar with this area, Greeley is well known for its cattle farms, slaughterhouse, and meat-packing plants. I was thrilled that I had such positive conversations and overall was met with a lot of enthusiasm.
—Lori Stultz, VO Communications Manager, 4/18/17
---
I was joined again by volunteer Nick Huss, who enthusiastically helped me reach more than 2,000 students at Montclair State University today. We spoke to multiple students about how attainable it is to gain and maintain muscle on a plant-based diet, and many were willing to give it a shot!
Below is a photo of Nick chatting it up with a student about vegan nutrition for athletes.
—Alexis Clark, VO Outreach Coordinator, 4/24/17
Upcoming Events
Oakland VegFest • May 20 • Oakland, CA
More info.
Vegan Meat and Cheese Tasting • May 21 • Los Angeles, CA
Vegan Outreach will be hosting this tasty event at Holy Nativity Episcopal Church. For more info and to RSVP, please contact Community Engagement and Events Manager Roxanne Hill at This email address is being protected from spambots. You need JavaScript enabled to view it..
Going Vegan: A Fun Meal and Presentation • May 24 • White Sands Missile Range, NM
While you enjoy eating delicious vegan tacos, VO Greater New Mexico Community Engagement and Events Coordinator Victor Flores will be presenting about the benefits of a plant-based lifestyle. Don't miss out on this educational and tasty event! More info.
Vegan Outreach Plant-based milk rocks! via @RedandHowling
Vegan Outreach is a 501(c)(3) nonprofit organization working to expose and end cruelty to animals through the widespread distribution of our booklets promoting plant-based eating and compassion for animals.
All donations are fully tax-deductible.